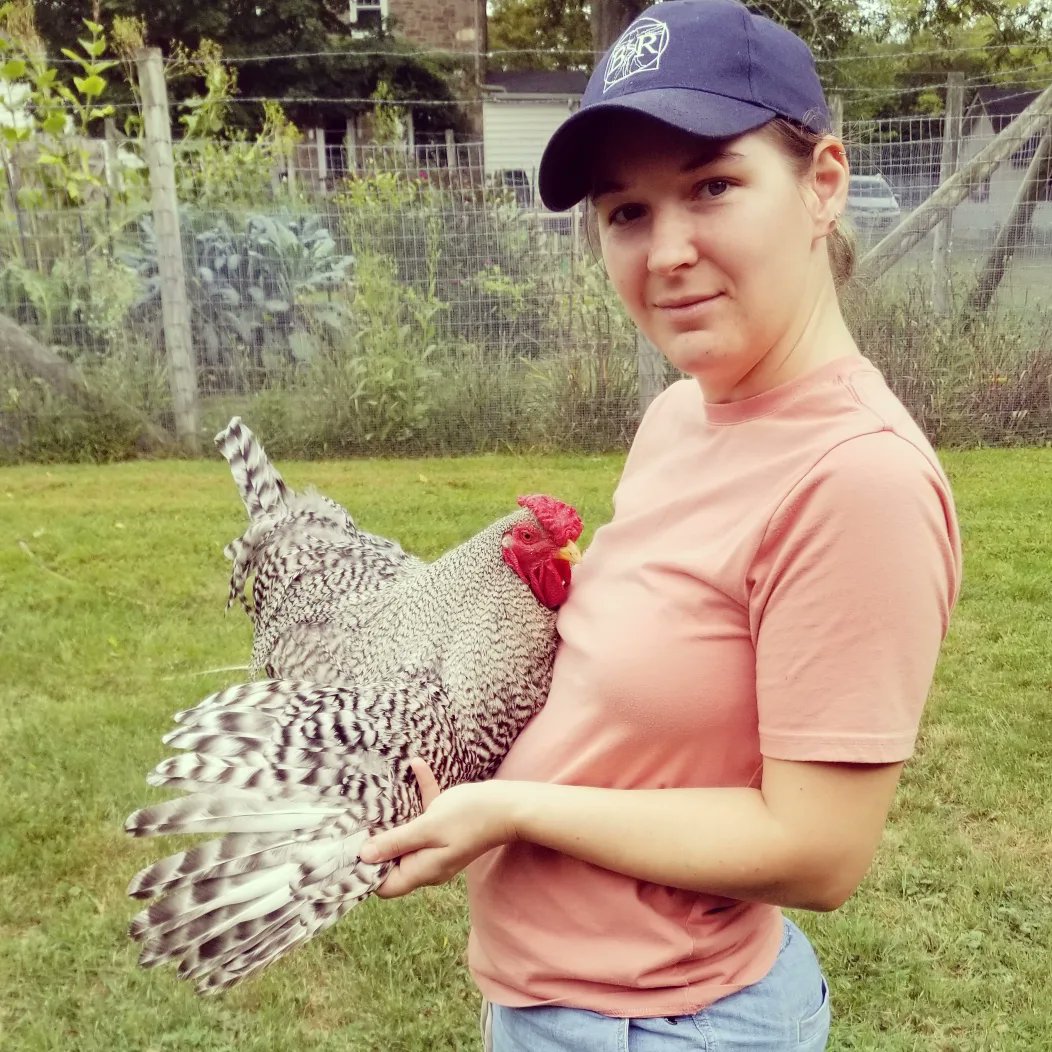 About the artist
Hi Im Taylor (they/them) an artist based in New Jersey.
I grew up on my great Aunt and Uncle's farm in the summers rasing all kinds of things such goats, horses, cows and Chickens.
I grew up passionately interested in raising animals and making art. Now days I have been making more time to combine the two into these passion projects such as this site.
Currently I work fulltime making art for videogames and illustration projects.
On the farm I Breeding American Dominqiue chickens and raising buckfast Honeybees.
In the winter we plan our native plant gardens and breeding projects, in the spring and summer, we teach beekeeping classes and take our birds to show.
Why heritage animals?
Heritage poultry preserve rare genetics that improve global food security; by providing the birds with the ability to have a naturally long life, and making them more climate and disease resistant than factory mass produced farm birds.
Heritage poultry are also a great way to provide back to local communities who need to raise low maintince, long lived birds for insect control, eggs and more.
Rare genetics?
Yes! Heritage breeds have been built up in small batches all over the globe for thousands of years, even back to ancient times! Because of this we have had plenty of time to diversify and safeguard these genes in historical flocks. They give us a living picture and databank of unique fowl features that can be traced back to the dinosaurs!
Naturally long life?
Most factory birds are raised for 2 years. The demand and setup of modern poultry requires that they produce immediately and consistantly. Many if not most industrial bird's lives are short.
Heritage birds are bred to last a family many years. From egg laying, to making more birds, providing insect removal, natural fertilizer and more; they are bred to live much longer, sturdier lives that don't require highly managed industrial settings to stay alive. Heritage birds get to to see snow, grass, sun, an breed naturally.
Climate and Disease Resistance
Factory birds are contained in large climate controlled facilities that take a lot of energy to run and maintain. Heritage poultry are designed to weather their native and natural climate, and are often bred to fight local disease and difficulties.
Small farmers have also historically banded together to eradicate disease to preserve these bird's hearty dispositions.
All of these things provide positive incentives for us to work with heritage birds.
Shipping and Inventory FAQ
Returns?
Because of these products are made on demand, and we holding no personal inventory on site with us, replacements of some items can be sent out if they have not been recieved within 3 weeks.
I use regular post to send these items out an on their way to buyers, so once they are in postal hands, they have left my responsibility.
How long is shipping?
Shipping is a little over a week usually, depending on where you are located. The items are made on demand and we keep low personal stock to reduce waste; so please give them a little bit of time to arrive.
Things are never thrown away, is our goal.
I would like a chicken/art that isn't in the shop!
If there is a breed or type of bird that you would really like to see in the shop, feel free to send me a message and I will do my best to add it to the top of the list!
Do you do custom orders?
I would be happy to do custom orders, but it is all up to the scale and budget. Send me a note, with a description of your project and I will do my best to get back to you asap!
Will you be at poultry and farm shows?
I take my birds to shows within the state, but plan on doing more to travel and enjoy out of state poultry and farm events! If possible I would like to bring stickers and merch to these as well! If you have one you think I should attend, throw it in the contact form!